Hanan Buhari the daughter of President Muhammadu Buhari, have welcomed her first child with her husband, Mohammed Turad Sha'aban.
The influential couple who tied the knot in a beautiful ceremony in September 2020, disclosed that their newborn son has been named Muhammad Zayd.
Hanan birthed their bundle of joy in Turkey on Sunday, March 20, and her hubby took to his Instagram page to confirm the good news.
Sharing a photo with his wife, he wrote, "My wife and I have been blessed with a baby boy! Alhamdulillah. We have named him Muhammad Zayd. (Hibbu Raulallah)"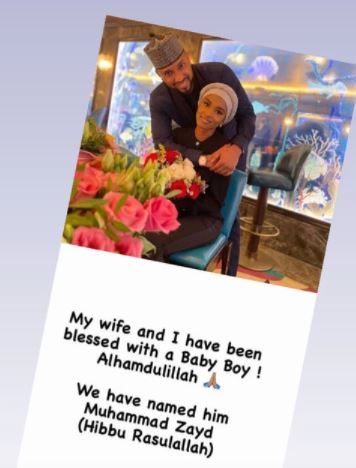 The talented photographer and her husband took to their respective Instagram accounts to celebrate each other on their one year of marital bliss.
"You are a prayer answered! Happy Anniversary Baby" Mohammed captioned a lovely photo of them in a post on his page.
On her own page, Hanan shared the same photo of the both of them writing, "Happy 1st My love"