A shocking case of incestuous relationships and multiple pregnancies rocks the local community .
In a startling turn of events, a Nigerian man has been arrested in the United Kingdom for allegedly impregnating not only his wife but also his wife's mother and sister.
The disturbing incident has sent shockwaves through the local community and on social media and have raised serious concerns about the nature of these relationships.
The suspect, whose identity remains undisclosed due to legal restrictions, was taken into custody by local authorities following an investigation prompted by a tip-off.
It is believed that the man had been engaging in intimate relationships with his wife's immediate family members over an extended period of time.
Authorities became aware of the situation when medical professionals discovered that all three women, the man's wife, her mother, and her sister, were simultaneously pregnant.
The circumstances surrounding the pregnancies have been described as deeply troubling, leading to the swift intervention of law enforcement officials.
The details of these relationships and the motivations behind them are still under investigation.
The police are working closely with social services and mental health professionals to ensure the well-being of the women involved, as well as any potential children resulting from these illicit unions.
Local residents have expressed shock and dismay at the news, with many struggling to comprehend how such a situation could have unfolded undetected.
Community leaders are now calling for increased awareness and education on the importance of consent, healthy relationships, and the prevention of incestuous behavior.
The suspect has been charged with multiple offenses, including incest and possible abuse, pending further investigation.
Legal proceedings are expected to take place in due course, where a comprehensive assessment of the situation and the potential impact on all parties involved will be conducted.
This distressing case serves as a sobering reminder of the need for vigilance in identifying and addressing instances of abuse and exploitation within our communities.
Authorities and support services alike are urging individuals who may have information or concerns about similar situations to come forward and report them to the appropriate channels.
As this investigation continues, the focus remains on ensuring the well-being and safety of the women and any children affected by these deeply troubling circumstances.
The long-term implications of such relationships and pregnancies will undoubtedly require ongoing support and care for those involved.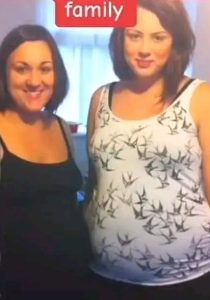 The case of the Nigerian man arrested for impregnating his wife, wife's mother, and wife's sister has not only shocked the local community but also serves as a stark reminder of the importance of safeguarding vulnerable individuals from abuse and exploitation.
It is hoped that this incident will prompt wider conversations about consent, healthy relationships, and the need for increased awareness and support services for those affected by such distressing situations.