Dorathy Osaronu, a resilient and inspirational differently-abled Nigerian lady, celebrated her second wedding anniversary recently, defying the doubts and misconceptions that surrounded her marriage from the beginning.
In a heartwarming reflection on her journey, Dorathy highlighted the initial skepticism she faced, with some dismissing her wedding as a fake event, while others labeled it a mere contract marriage.
Furthermore, there were those who boldly predicted that her union would not last more than a year.
However, Dorathy's unwavering determination and unbreakable bond with her spouse have proved all the naysayers wrong.
The couple has triumphed over adversities and demonstrated the true essence of love, commitment, and resilience.
Dorathy, who has always been an advocate for inclusivity and disability rights, has shown the world that love knows no bounds and is not limited by physical limitations.
Despite the challenges she faces due to her disability, she has become an inspiration to many, showing that happiness and a fulfilling partnership are attainable for everyone.
Reflecting on her second wedding anniversary, Dorathy expressed her gratitude for the love and support she has received throughout her journey.
She thanked her spouse for their unwavering dedication, kindness, and understanding, which have been instrumental in their enduring relationship.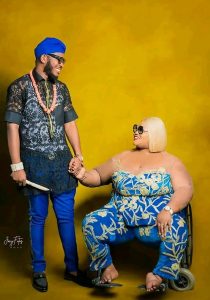 Dorathy's story serves as a reminder that stereotypes and prejudices should never dictate one's happiness or define the potential of a relationship.
Her resilience in the face of skepticism and doubt serves as an inspiration to individuals facing similar challenges, showing that love can conquer all barriers.
As the world celebrates the second wedding anniversary of Dorathy Osaronu and her spouse, their remarkable journey reminds us that love, acceptance, and determination can overcome even the most arduous obstacles.
Their story is a beacon of hope and an affirmation that love knows no boundaries