A woman identified as Maureen Atieno Omolo, has recounted her ordeal at the hands of her fiercely possessive husband.
According to Omolo, who shared her sad experience in an interview with Afrimax TV, her husband hacked off her finger and removed her eye out of jealousy.
The young woman, who had lost both her parents at a very young age, said she married at the age of 15, to get someone to help take care of her and her siblings. She noted that although she didn't want to get married at that early age, she thought it was the only option available to her at the time.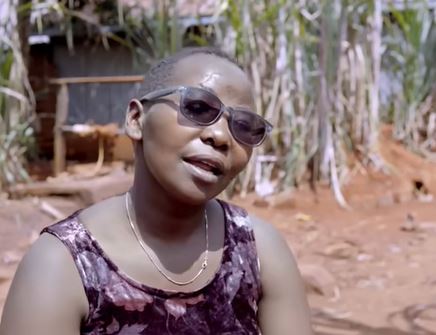 Omolo stated that her husband adored her and never failed to fulfil his obligation to provide for the family, but he never wanted to see her talking or relating with another man.
She said she became a prisoner in her husband's house as she had to live a solitary life because her husband feared another man might snatch her from him.
Omolo revealed that her husband also swore that he would murder her rather than let another man take her away from him. She, however, assumed that the man had simply spoken the threat out of love and envy, so she dismissed it.
She said at a point in their marriage, with her husband's permission she got a job as a house keeper in Nairobi, and she had to leave her husband and the children behind and only visit them from time to time.
However, on one of her visits she discovered her husband was already seeing another woman, which left her heartbroken, so she immediately left for Nairobi.
Following her return to Nairobi, her husband grew enraged and called, threatening to kill the kids if she didn't return. She said she left for home right away to save her kids from being murdered. She had to coexist with the new woman, with whom she frequently disagreed.
She made the decision to go back to Nairobi in order to get the money that her previous employers owed her. Her envious husband who believed she was leaving him permanently, texted her brother to tell him that he was going to murder Omolo.
Before her brother could call to alert her to flee, the man had already launched an attack on her with a machete that his second wife had brought to him.
"I was pleading with him to stop, but he didn't. He cut me, and I fell on the ground. I kept pleading with him to forgive and not kill me, but he said whatever I said, he was going to kill me and then go to prison." Omolo said, amid sobs.
The mother of three was rushed to the hospital and fortunately she survived.
Watch her speak below,