Nigerian actress, Mellisa Osagie has shared how her boyfriend dumped her because of her job.
The actress working on a movie with a bedroom scene took to her Instagram page to narrate how she lost her man because of a similar scenario.
According to Mellisa, her boyfriend told her that she was not allowed to act out bedroom scenes with another man, or their relationship was done and since it was unavoidable in her line of work, the relationship had to end.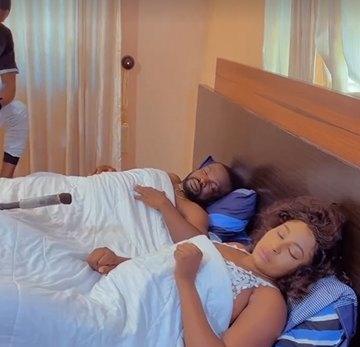 Sharing a video while on set, she wrote;
"This scene reminds me of how my ex broke up with me after we had a conversation that, if I ever play a bedroom scene in a movie it's will be the end of our relationship. I jejely told him, my dear if you can't stand it just rest because relationships without trust is baseless and that was the end of us. Today we're no more together here I am shooting a bedroom scene with another woman's husband😂😂😂
Life of a filmmaker
Meet AWELE on the set of ISINGWU SHRINE 🎥day 2."
Watch the video here;