A video that captures the dramatic moment a young Nigerian lady turned down her boyfriend's marriage proposal is currently making rounds online.
The incident took place at Festac Mall on Sunday, December 12.
The lover boy, who proposed with a car decorated with balloons, rose petals, and a 'will you marry me?' sign, had gone down on one knee to propose to his girlfriend outside the mall, in the presence of other shoppers.
However, the lady wasn't having it at all as she slapped him, and told him to stand up immediately because he was embarrassing her.
She was also heard saying they've only dated for one month so she doesn't understand why he would propose to her in public after such a short time.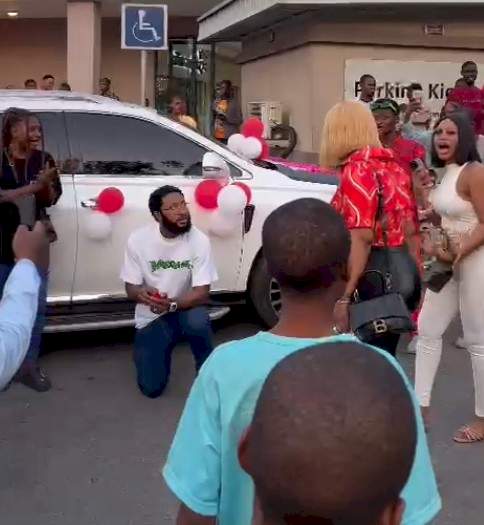 All the while, other shoppers who had gathered round the couple, were encouraging her to say "YES" to her boyfriend's proposal but the lady maintained her stance and walked out on him.
Watch the videos below,