I will never understand the need to lie about your age – BBNaija star, Peace shades her colleagues
Big Brother Naija star and model, Peace Ogor has seemingly thrown jabs at her colleagues who lie about their age.
Over time, reality show stars and entertainers have been accused of reducing their ages to fit into a setting, age bracket or to be perceived as young.
Her colleague, Maria Chike, has also come under fire in the past for allegedly claiming she's 30 when she's way older.
Although, the context of Peace's post is not clear, the 26-year-old influencer said she will never understand why people lie about their age.
According to her, she feels she's the only one who is truthful about her age.
Peace tweeted;
"I will never understand the need to lie about your age, never!!!.
At this point I'm the only person with real age."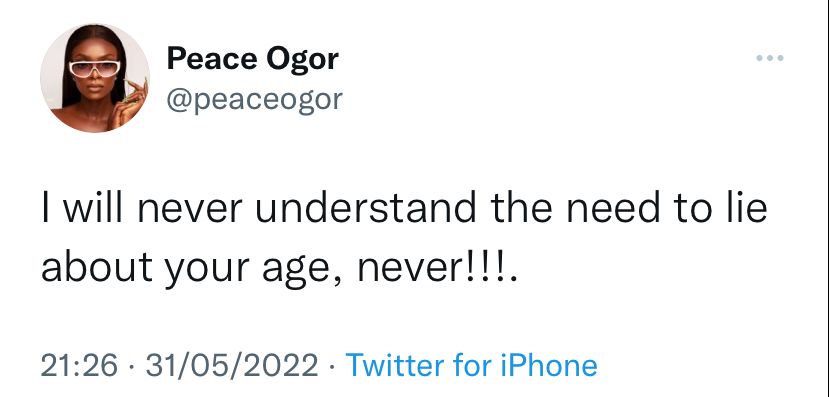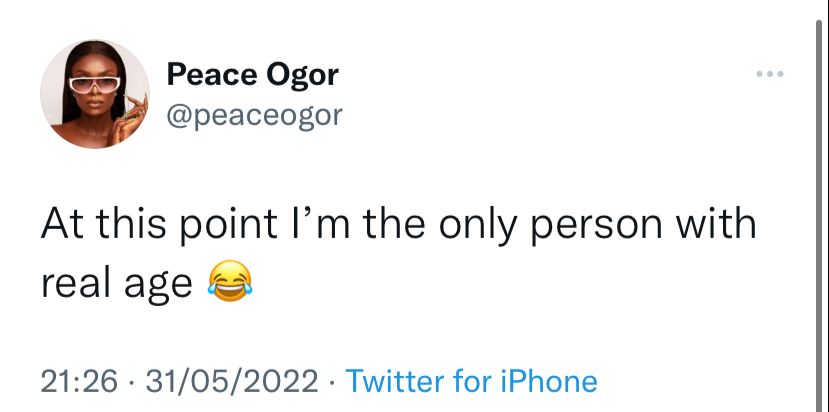 In May 2022, Maria Chike took to her social media page to reveal that she will be turning 30 and it generated lots of buzz on the internet.
"Road to 30…
I want my 30s to be as peaceful as heaven was described in the Bible.
I want to experience heaven on earth in my 30s. Less sadness and more peace, less noise and more quiet.
So for this look, I opted for Blue, heavenly. Blue is for calm, trust and intelligence, and these are all what I want in my 30s," she captioned the post.
However some of her followers took to the comment section to say she is lying about her age because she was their senior in High School and they are well over 30. Maria would not let that slide as she took time to reply those doubting her age.
See below ;
A Twitter user known as Jane wrote;
You were my senior in secondary school and I am 32… wonderful!!
Maria replied;
But you mentioned Maria Chike, I am me and you are you! Thank you but don't forget I'm still your senior, maybe not in age.