The world of sports is often filled with exciting moments, record-breaking achievements, and inspiring stories.
However, sometimes the personal lives of athletes become the subject of public scrutiny, especially when their romantic relationships come into the spotlight.
Recently, Nigerian football player Emmanuel Emenike made headlines for divorcing his wife, Ezinne Akudo Anyaoha, who was crowned Miss Nigeria 2013, and marrying Iheoma Nnadi, who won the Miss Nigeria title the following year.
Emmanuel Emenike, born on May 10, 1987, in Otuocha, Anambra State, Nigeria, is a retired professional football player. He began his career in Delta Force FC in 2007 before moving on to play for various other clubs, including Cape Town, Karabukspor, Fenerbahce, West Ham United, and Las Palmas.
Emenike's successful career was marked by his incredible speed, goal-scoring prowess, and physical strength on the field.
However, despite his success on the pitch, Emenike's personal life has not been without controversy. In 2014, he married Ezinne Akudo Anyaoha, who had won the Miss Nigeria title the previous year.
The couple's marriage seemed to be going well, and they had two children together.
However, in 2018, Emenike filed for divorce, citing "irreconcilable differences."
Shortly after his divorce, Emenike began dating Iheoma Nnadi, who had won the Miss Nigeria title in 2014.
The couple had been together for a while before finally tying the knot in May 2020 in a lavish ceremony in Lagos.
The wedding was attended by several Nigerian celebrities, including musicians, actors, and fellow footballers.
However, Emenike's decision to divorce his first wife and marry the next Miss Nigeria winner has sparked mixed reactions from the public.
While some have criticized him for his actions, others have defended him, arguing that he has the right to choose his own partner.
In Nigeria, beauty pageants are a big deal, and winning the Miss Nigeria title can be a life-changing experience for many young women.
The competition, which began in 1957, aims to promote Nigerian culture, traditions, and values while providing a platform for young women to showcase their talents and intelligence.
However, the recent turn of events involving Emenike and his two Miss Nigeria wives has raised questions about the role and significance of beauty pageants in Nigerian society.
Some have criticized the pageant industry for promoting a superficial culture that places too much emphasis on physical appearance, while others have defended it as an opportunity for young women to gain confidence and pursue their dreams.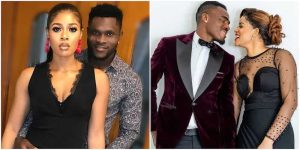 In conclusion, the story of Emmanuel Emenike and his two Miss Nigeria wives has generated a lot of attention and debate in Nigeria and beyond.
While some see it as a personal matter, others see it as a reflection of the larger issues and challenges facing Nigerian society, including gender roles, cultural norms, and the influence of beauty pageants.
Ultimately, only time will tell what impact this story will have on Nigerian society and the world of sports.