In a heartfelt message, he referred to her as "The One That Has My Only Mumu Button In The Whole Wide World , My Baby Girl, My Lover, My Best Friend, My Gist partner."
This message of endearment has captured the hearts of many on social media. But what does it mean, and why is it so special?
Firstly, the use of the term "Mumu Button" suggests that Blessing has a special power over Stan – one that makes him act silly or foolish in her presence. This is a term of endearment often used in Nigerian slang, and it conveys a sense of deep affection and admiration.
Stan also referred to Blessing as his "Baby Girl", which is a term of endearment commonly used in relationships. It suggests that she is someone he loves and cares for deeply, and that he sees her as someone he can protect and cherish.
By calling her his "Lover", Stan is expressing his deep love for Blessing. This term suggests that they have a romantic and intimate connection, and that they are deeply committed to each other.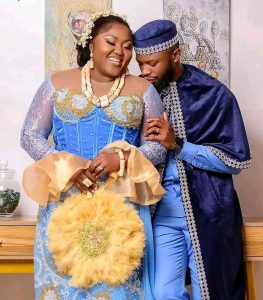 The term "Best Friend" implies that they have a close and trusting relationship. This is an important aspect of any successful marriage or partnership, as it suggests that they share a deep bond and that they can rely on each other for support.
Finally, Stan referred to Blessing as his "Gist partner", which suggests that they enjoy sharing stories and conversations with each other. This is an important aspect of any healthy relationship, as it suggests that they are able to communicate and connect with each other on a deep level.
In conclusion, Stan Nze's heartfelt message to his wife, Blessing Obasi, is a beautiful tribute to their love and partnership.
By using terms of endearment such as "Mumu Button", "Baby Girl", "Lover", "Best Friend", and "Gist Partner", he has expressed his deep love, admiration, and appreciation for his wife. It is a beautiful reminder of the power of love, and the importance of nurturing and cherishing our relationships.
May we find true love.