Controversial Nigerian singer, Portable has yet again proven that aside from being a musician, he's a romantic husband.
In a video that's currently making the rounds online, the singer, who's currently in Gambia with his wife, Bewaji, is seen tending to her as she complains of cold.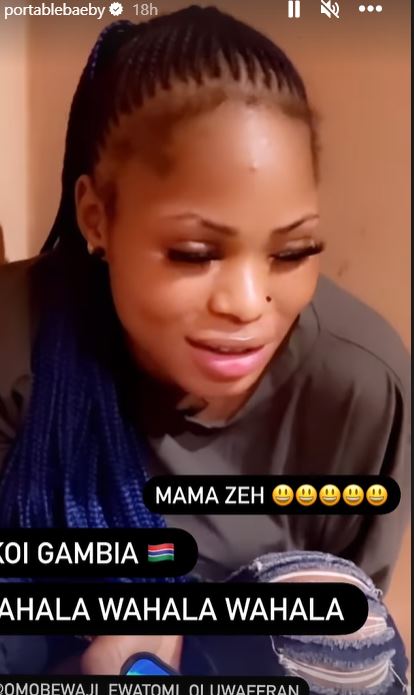 In a video, Bewaji is seen in a corner complaining about how cold Gambia is, while Portable comforts her and tells her to wear a jacket to keep her warm.
At some point, the Zazu Zeh star told his woman to come get warm with him and tried to cuddle her.
Bewaji, who evidently was enjoying the loving treatment from her husband, was smiling from ear to ear all through.
After getting his wife to come to him, Portable promised to take her to the US and UK, where she would enjoy more of the nice weather.
The clip elicited warm reactions from fans and followers of the Zeh Nation boss as they marveled over his romantic side.
Reacting, one @dpablo1313 wrote, "Portable dey romantic pass me Walahi 😂🤭😂".
@candy_by_wendy, "I no fit laugh..so portable get mumu button".
@wunmiomotoshoo, "Your classy, posh and learned bf's no dey even treat you this way God bless you jare wahala musician".
@toyo_wealth, "Make we no lie portable Dey romantic."
Watch video below,