Fans have raised concern over Nollywood actress Regina Chukwu's expensive outfit for her birthday and housewarming party.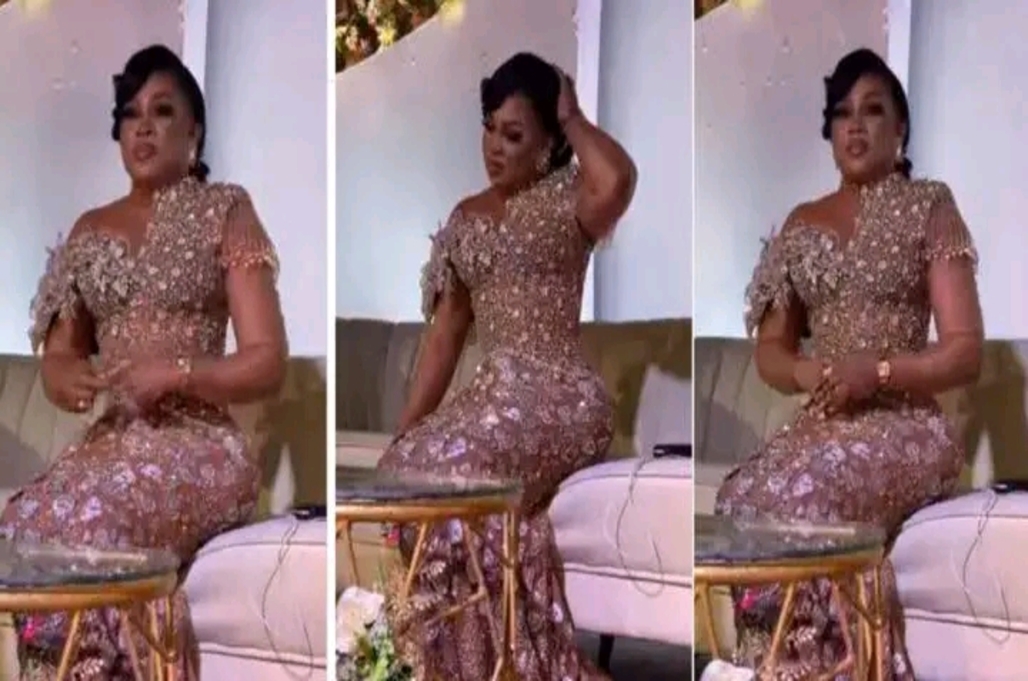 Videos making rounds online captured beautiful moments from the party, which hosted over 300 Nollywood stars. The celebrant, flanked by her son and daughter, was adored in different beautiful outfits for her big day.
One of Regina Chukwu's outfits for the event got many talking online about how the actress is struggling to breathe through it.
Her fans raised concern about her well-being in the outfit, with many saying she should have demanded a high chair because of the corset in her outfit.
One Midemoh wrote: Is she breathing well? I can see her panting… Corset yi nooni
Yetty Bimbs wrote: Omo she can't breathe very well…nkan ti corset yi ma da si le agbara corset oni ka.
Doyinsola wrote: I think decorators need to start asking their clients what they will be wearing for their event. Low chairs don't work for corset at all. A single high queen chair would have made her feel much more better. Corset no easy at all
"Tori olohun , u don't need to wear this corset b4 u look snatching abeg. Tell me why I should be uncomfortable on my celebration day. God abeg ooooo. Anyways Congrats ma" Teefluffy wrote.
Regina Chukwu reveals condition for attending her housewarming party
Recall that Regina Chukwu gave her fans a condition to they could attend her grand housewarming.
Regina Chukwu proudly showed off her new house when she recounted how difficult life was for her as a single mother, following the death of her husband and the father of her kids.
Regina revealed how she had to move into her father's house following the death of her husband because she couldn't afford rent.
She also noted that she had to manage in the same room with her many siblings and parents, and had to sleep outside with her mosquito nets and more.
According to the actress, who has been receiving donations and financial support from her fans, and colleagues, the housewarming party will be grand.
In reaction to some fans who indicated an interest in attending the party, Regina Chukwu told them to buy the aso ebi before getting an invite.
"Who is getting for my party, Housewarming/birthday party. It's abt to be litttyyyyy. AsoEbi available cos o ma loud gan niiii"