A viral video of a little girl rocking artificial eyelashes and nails has caused a stir online.
The little girl attended her school's graduation party heavily glammed up with false lashes and colorful nails.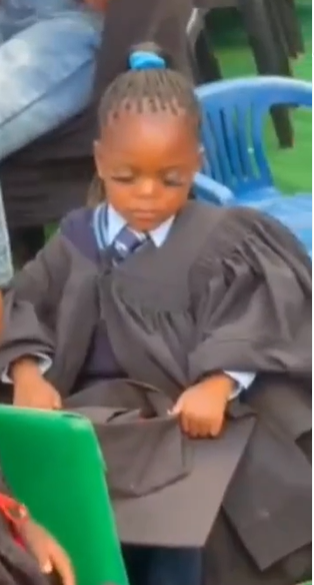 In the viral video, she's seen sitting with her classmates, who were all wearing graduation garb.
The video has sparked outrage online as netizens slammed the girl's mother. The fake nails and lashes, in the opinion of many, were unnecessary burdens for a child and inappropriate.
Reacting an Instagram user @papi_demillie wrote, "No matter how much anyone wants to sugar coat this, it's still NON SENSE." How would you feel if as a young adult, someone else is forcing you to be like a 83yr old elderly? Reason abeg".
@girl_wit_no_name, "This can only happen in trenches school 😂 because normal school will not allow the girl enter, the parents should be arrested."
@sugarvie_, "She could easily hurt other kids with those nails. While I do not ever offer opinions to parents on how to parent, do not do the one that will affect my child I take God beg una 🙌".