The Lagos State Government has shut down the popular nightclub, Quilox, at Ozumba Mbadiwe Road over noise pollution.
The enforcement exercise by the government was jointly carried out by the officials of the agency and the Lagos Tasks
Force
.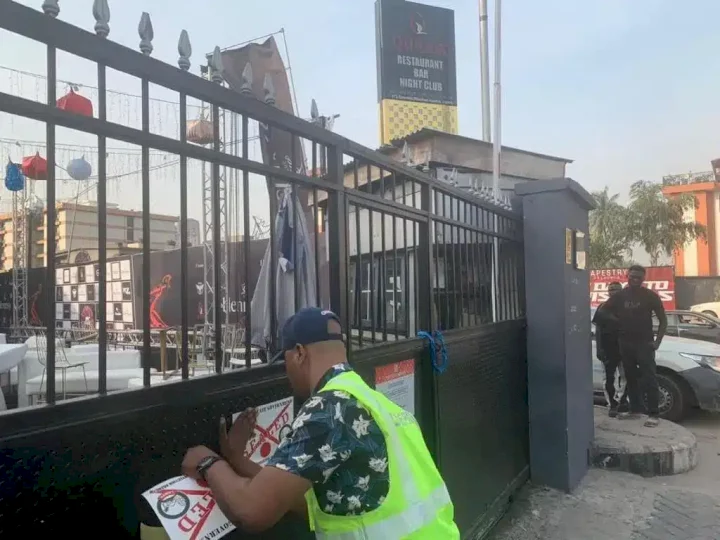 The decision to shut down the Quilox club was a result of several complaints made by the residents living in the area. According to reports, the noise from the club disturbs the peace of residents and also interferes with their sleep, hence the decision.
The General manager of LASEPA, Dr. Dolapo Fasawe disclosed that the agency received a lot of complaints from residents with video evidence from neighbors as well on the environmental nuisances the club was creating.
"NOISE POLLUTION: LAGOS SHUTS QUILOX CLUB

The Lagos State Environmental Protection Agency (LASEPA) on Saturday shut the popular Quilox Club on Ozumba Mbadwe Street, Victoria Island for its failure to comply with directives on organizing events and not obtaining a sound control permit from the Agency. The enforcement exercise, which was jointly carried out by the officials of the agency and the Lagos State Task Force, was also a result of several complaints made by residents in the area.

Reacting to the exercise, General Manager, LASEPA, Dr. Dolapo Fasawe disclosed that the agency received several distress calls with video evidence from concerned neighbors to support their claims on alleged environmental nuisances being perpetrated by the club without consideration to the rights of other residents to a peaceful environment."