Renowned Kenyan chef Maliha Mohammed made history in 2019 when she broke the Guinness World Record. Now, she is gearing up to challenge Nigeria's Hilda Baci and her new 100-hour cooking record.
Maliha has meticulously planned her training schedule for May, June, and July, leading up to the challenge in August 2023. This dedicated preparation reflects her strong determination to break the existing record.
Although Maliha has previously attempted to enter the Guinness Book of Records through cooking challenges, she has yet to achieve success. However, she remains humble and has reached out to fellow Kenyans, seeking their support in the form of encouragement and donations to aid her training process.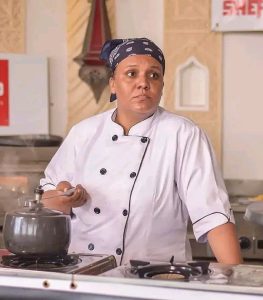 It is worth noting that Maliha is no stranger to attempting world records in the realm of cooking. In 2018, she cooked for an impressive 72 hours, demonstrating her endurance and passion for culinary achievements.
Maliha's passion for cooking began at a young age, as she spent holidays with her late mother, father, and grandmother, refining her skills in the kitchen.
In May 2019, she participated in a remarkable cook-a-thon at the Technical University of Kenya, where she cooked nonstop for 36 hours over a weekend.
During this incredible feat, Maliha managed to prepare an astonishing 100 meals, showcasing her exceptional culinary talent.
Maliha's contributions to the field of cooking have not gone unnoticed. In 2021, she was honored with the Woman of Excellence in Tourism award by the Kenya Association of Women in Tourism (KAWT), recognizing her remarkable achievements.
With her sights set on breaking Hilda Baci's record, Maliha Mohammed is more determined than ever to secure her place in the Guinness Book of Records.