Nigerian female rapper Eva Alordiah has revealed that 'she's off the market'.
The Delta-born talented artiste made this revelation while responding to a male fan who asked to take her on a date.
The admirer had taken to the comments on one of her Instagram posts to disclose that he has a huge crush on the singer and would love to take her out on a date.
"My woman crush everyday. Would love to take you on a date," the fan wrote.
Responding, Eva first thanked the admirer and noted that she's off the market.
"Thank you! I'm off the market." She replied.
See their exchange below,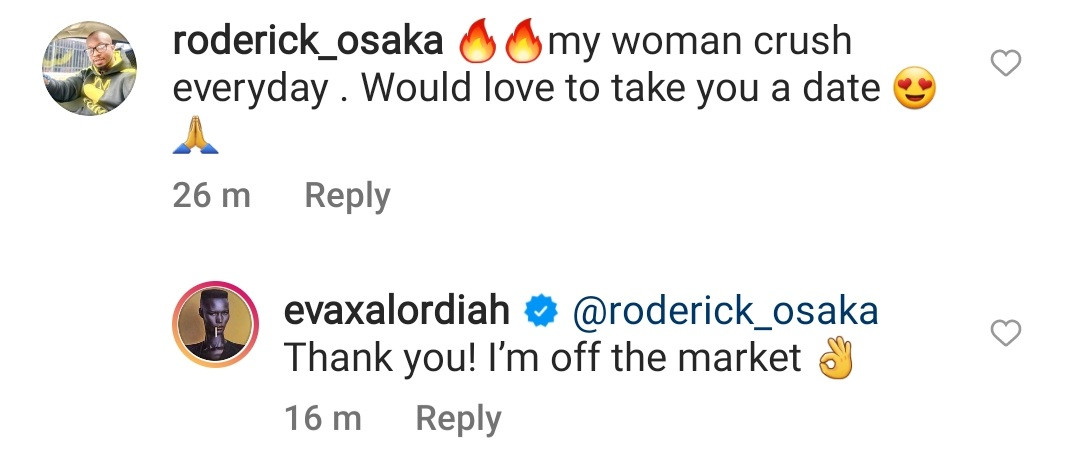 A while ago, Eva penned an important message to anyone viewing her as a role model.
Taking to her Twitter handle on Wednesday, March 16, Eva noted that she's an exponentially flawed human still trying to figure out life.
She added that she's doesn't fit into anyone's idea of holy and will fit the society's model of perfect.
She urged people not to look up to her, but rather their refection.
"I am not your role model, I am not your guru. I am an exponentially flawed human just trying to figure out this human shit. I'm a Born Sinner, not your idea of Holy and I'll never fit your model of perfect. So please, don't look up to me. Look in the Mirror." She wrote.