Gistfox KickStart Young Adult Empowerment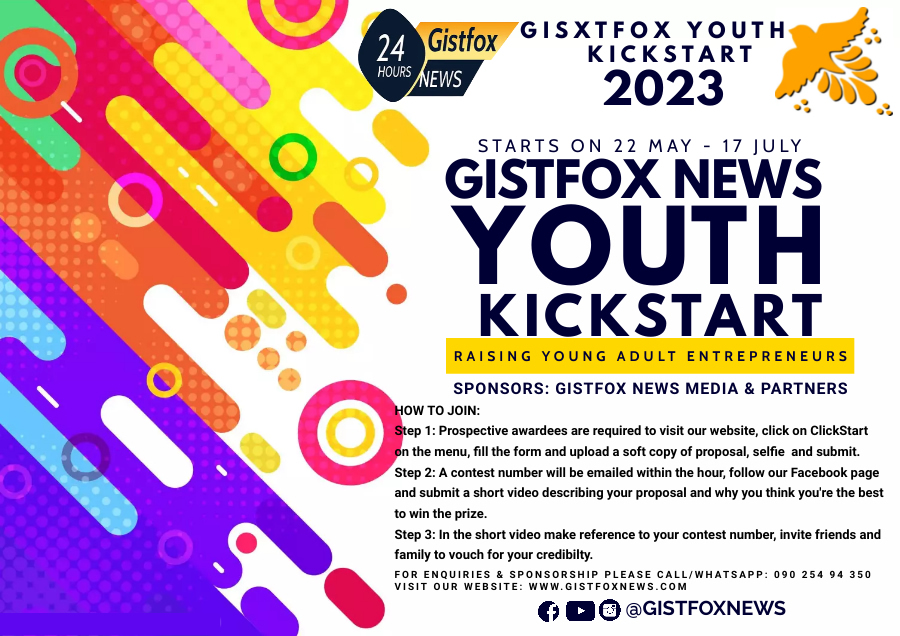 With the intention of producing projects that are influential, progressive, and long-lasting. The Gistfox News Media program Gistfox Youth Kickstart focuses on business growth and development for young entrepreneurs. The initiative aims to support young people's ideas and enterprises.
Every young person in Nigeria is welcome to participate in Gistfox Youth Kickstart, which was previously successfully executed in Nigeria at its introduction. This is the program's second iteration, which began in 2020. Gistfox Youth Kickstart, which is currently accessible to youth in all six geopolitical zones of Nigeria, aims to become a national intervention for young adults.
How to join:
Step 1: Prospective awardees are required to visit our website, click on KickStart on the menu, fill the form and upload a soft copy of proposal, selfie and submit.
Step 2: A contest number will be emailed within the hour, follow our Facebook page and submit a short video describing your proposal and why you think you're the best to win the prize.
Step 3: In the short video make reference to your contest number, invite friends and family to vouch for your credibilty.
Age: 18 years to 35 years.
Communication: English language (read, write and speak).
Location: Nigeria
Social media handles: @gistfoxnews