Reality TV star and entrepreneur, Lucy Edet has taken to social media to write an open letter to her future husband.
She told him to be ready to get vasectomy done because he won't be able to resist her body when they get married, and would want to get intimate all the time.
According to Lucy, her husband would need to seal his tubes so that she won't keep getting pregnant because of their frequent sexual intercourse.
In a post shared via her Instastory, he wrote,
"Dear future husband, you're in soup. You'll have to get vasectomy because I promise you, keeping your hands off me go hard wella."
See below,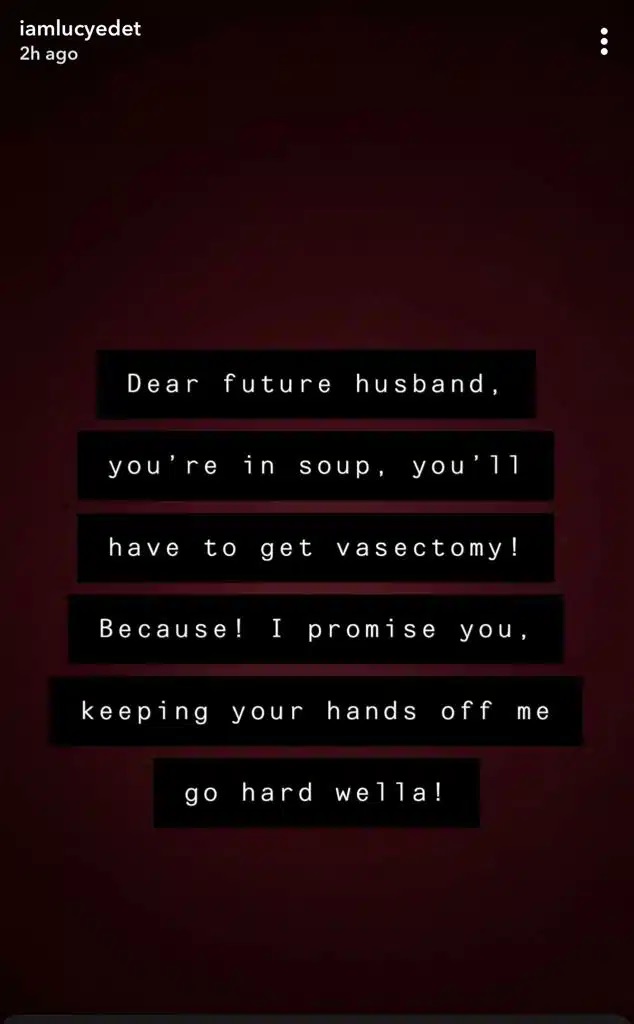 A while back, Lucy revealed one of the prices she has to pay for being a popular figure.
She made this revelation during a question and answer session she had with her followers on Instagram on Monday, July 25.
A follower had asked how she copes with being in the public eye and having people scrutinize her every move because of her celebrity status.
"How are you doing Lucy? like how is life having people in your business all the time?" the follower asked.
In response, the 32-year-old former Big Brother Naija housemate said it has been crazy and it's more frustrating because finding a man with genuine intentions is difficult.
"The price of fame! The most annoying of it being that dating someone is harder! You don't know who is just coming to get famous or drag you down! Scary shit", she wrote.
She also disclosed that she is single and not searching for a man for now.