Popular Nigerian singer, Peter Okoye also known as Mr. P, has issued a "no PVC, no entry" policy in his house and office.
The 40-year-old singer made this declaration in a post shared on his Twitter page on Monday, June 6.
He stated that no one will be permitted to enter his house and office without showing their Permanent Voters Card (PVC) to his security first.
According to him, this measure is necessary to encourage his acquaintances to get their voters card and vote out bad leaders in the 2023 elections.
He tweeted,
"I have just instructed my security and my management that No one is allowed to visit my house or my office without showing their PVC! This also include my management team and entourage! No PVC! No Visits and Travels!…We must get it right this time and vote out bad leaders.
ENOUGH IS ENOUGH!
GO AND GET YOUR PVC
NOW!
VOTE YOUR CONSCIENCE!
LETS VOTE OUT THIS BAD LEADERS!
LET'S TAKE BACK OUR
COUNTRY!🇳🇬"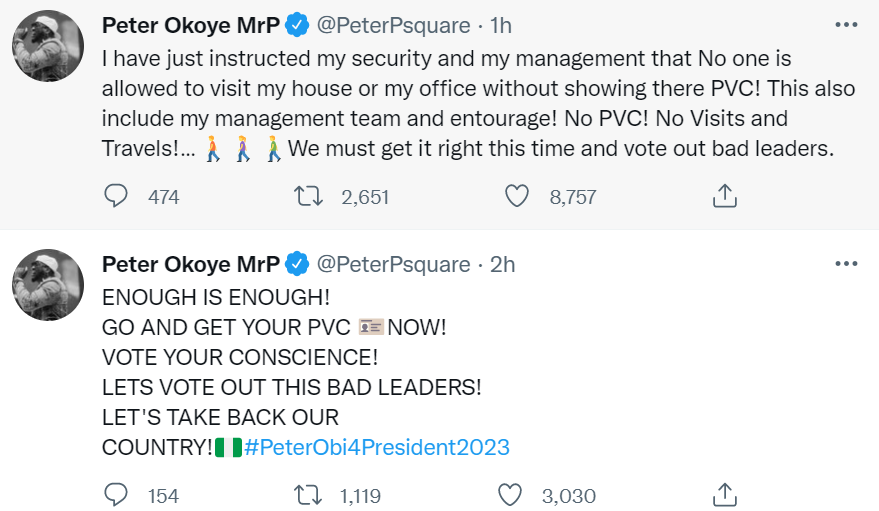 A while ago, Peter Okoye was engaged in a 'timeline conversation' on Twitter with one of his followers.
Peter had shared his thoughts about the amazing changes Dubai had gone through over the years and he compared their rate of progress with that of his beloved country Nigeria.
However, a fan wasn't so impressed with Peter's comparison and he dropped a comment that led to Peter blasting him later on.