Content creator, Ogechi Ukonu popularly known as Caramel Plug, has publicly declared that she would rather die than fight over a man.
The Instagram skit-maker and brand influencer made this declaration in a Snap she posted on Snapchat on Tuesday, May 10.
According to her, she finds it degrading to fight with another woman over a man that she's not married to yet.
She wrote,
"I rather die than fight over a man with somebody. I rather die
Personally that's belittling to me. Very
God forbid.
To come and start exchanging words? Or throwing hands A.K.A Rachet behaviour?? When the man is not your husband? How do you people do these things??! Fr!"
See below,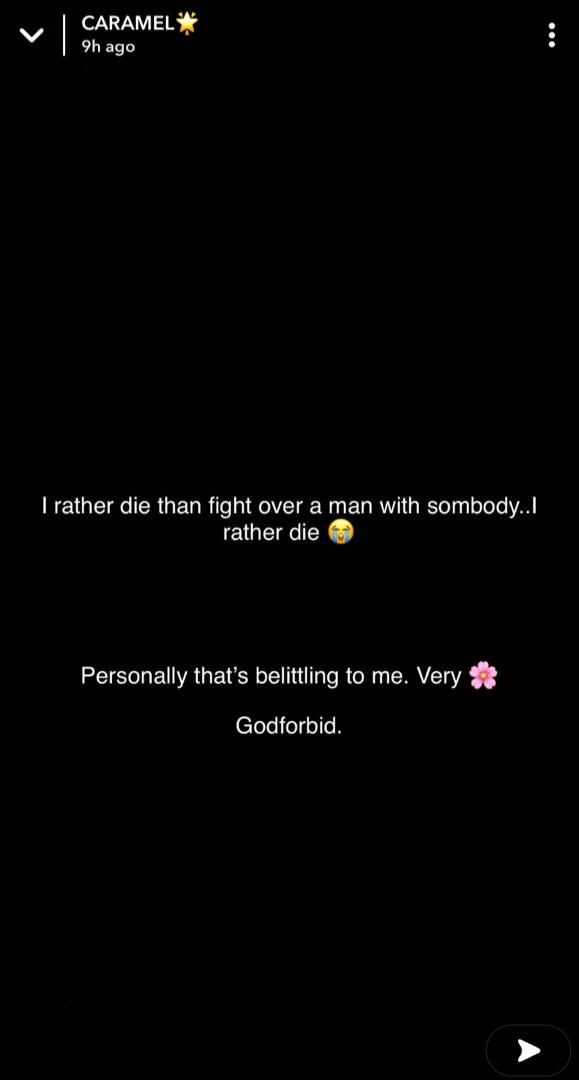 A while ago, Caramel Plug bought a multimillion Naira mansion for herself in Canada.
The 21-year-old brand influencer took to her social media pages to share the good news with her fans and followers.
She shared a photo of herself holding the key to the house and announced that she was no longer in the small room where she started making her skits from.
"Update!! we no dey for that small room again o", she captioned the photo.
Also sharing photos of herself in the luxury home, she wrote, "NEW LEVEL UNLOCKED 🔓🎖🎉|| Oge's Crib 2021 🌟I DID THAT🌟".