Popular Instagram dancer and entrepreneur, Janemena, has taken to social media to disclose that both men and women are sexually attracted to her.
She stated this in a post she shared on her Instagram page while bragging about her looks and personality.
According to her, the fact that both genders are attracted to her shows that she is not 'ugly' as some people claim. She further added that she is also kind and hot.
Sharing a lovely photo of herself, she wrote, "I attract both genders so I know for a fact I'm not ug*y. I'm freaking beautiful, kind, Hawt asf."
See below,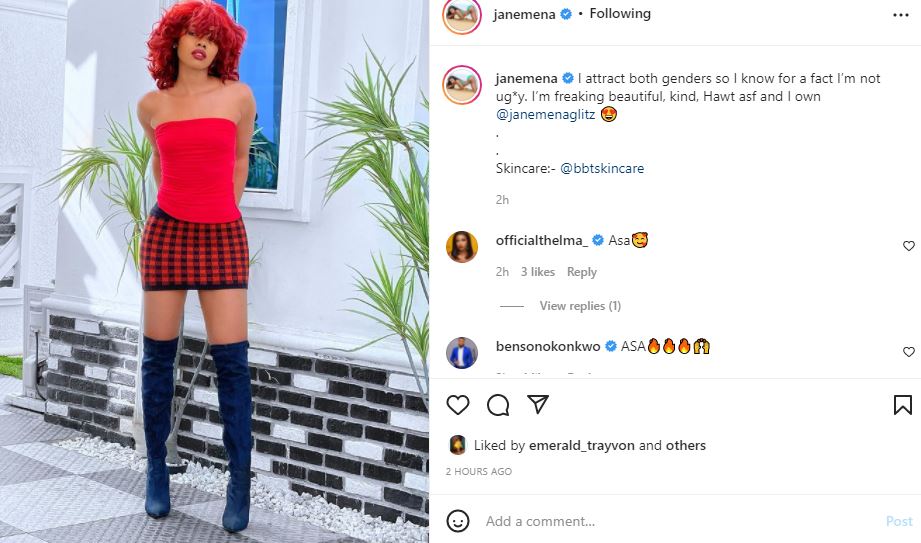 Taking to her official Instagram page to show off her "small breast", the internet celebrity revealed it saved her from all explanations when fake tapes and pictures alleged to be hers circulated online months ago.
"When they brought fake tape and picture and said it was me. Wanna know what saved me from all explanations….. MY SMALL BOOBS. Dem no Dey fake am😍😍😍😍. I'm super grateful for this body and I wouldn't change it for anything in the world. I love y'all genuinely for riding with me😍 The real ones only", she captioned the video.