The Federal Government has dissolved the Advertising Standard Panel for approving a controversial billboard advertisement considered to be blackmail against the Nigerian Judiciary.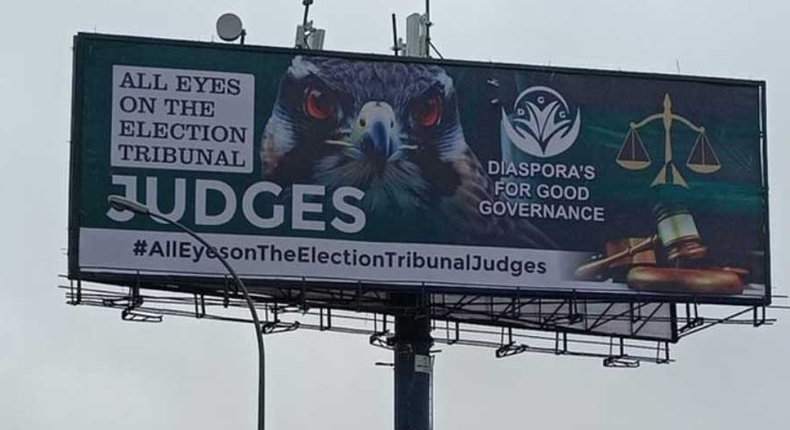 The billboards which have now been brought down across the country, are illustrated with the image of a watchful eagle with the caption, "All Eyes on the Election Tribunal Judges."
In a statement signed by its Director-General, Dr. Olalekan Fadolapo, ARCON said it ordered the removal of the advertisement because the billboards were not properly vetted by the Advertising Standards Panel.
Explaining the reasons for bringing down the billboards, ARCON said the cause forming the central theme of the campaign in the advertisement is a matter pending before the Presidential Election Petition Tribunal.
The regulatory body stated that any matter awaiting judicial pronouncement is, by virtue of the Nigerian legal system, precluded from being a subject of public statement, debate, discussion, or advertisement.
ARCON also said the advertisement is considered blackmail against the Nigerian Judiciary, the Presidential Election Petition Tribunal and particularly the justices of the tribunal who are expected to discharge their judicial functions without fear or favour over the matter before them.
The body, however, vowed to set up a committee to investigate the circumstances that led to the approval of the billboards.
ARCON described the content of the billboards as inappropriate, saying it breached vetting guidelines.
The further statement disclosed that the Director and Deputy Director, Regulations have also been suspended to enable investigation into the matter.